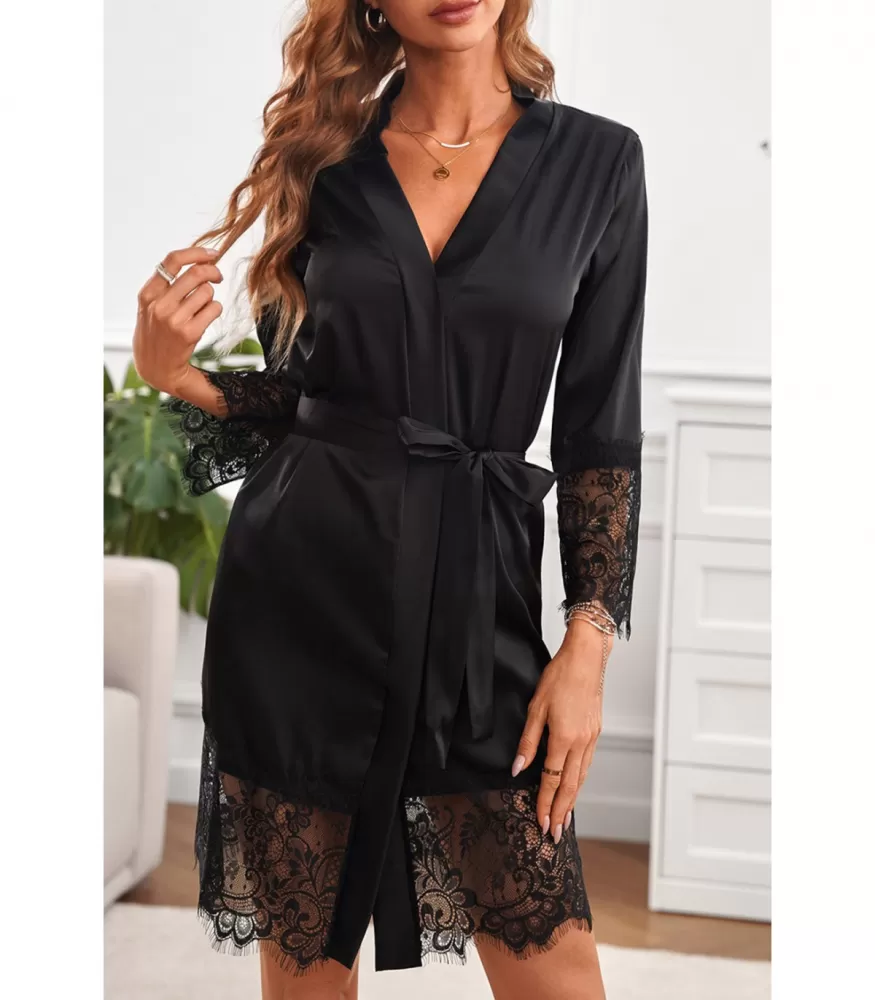 Gratis frakt för beställningar över 500kr
Leveranstid 2-5 arbetsdagar
Redan 10 år i Finland - Nu i Sverige
Ersättning för returkostnader (när du betalar med Paypal)
Svart spetsorned satin morgonrock med bälte. Om du tänker mellan två storlekar, ta en större!

Längd: 94.5cm (S), 96.5cm (M), 98.5cm (L), 100.5cm (XL), 102.5cm (XXL)

Välj en storlek:

S om du normalt använder storlek 36-38.
M om du normalt använder storlek 40.
L om du normalt använder storlek 42-44.
XL om du normalt använder storlek 46.
XXL om du normalt använder storlek 48.

Parallell: 97cm (S), 102cm (M), 107cm (L), 115cm (XL), 123cm (XXL)
Axelbredd: 38.5cm (S), 40cm (M), 41cm (L), 43.5cm (XL), 45.5cm (XXL)
Helman bredd: 119cm (S), 124cm (M), 129cm (L), 137cm (XL), 145cm (XXL)

Material: polyester + elastan
Kundrecensioner
Bekräftad köpare
Tuotteen laatu
Tuotteen koko
Pretty but not practical (Automatic translation)
Säljarens svar:
Thank you very much for your feedback! It's a shame to hear that the bathrobe didn't stay well on. If you wish, you can exchange the product for free with any other product in our range. The dressing gown also has a normal 14-day return policy. :)
Bekräftad köpare
Tuotteen laatu
Tuotteen koko
Good (Automatic translation)
Good-feeling product anyway, but the strap was loose, that's a disadvantage. It would be better if it caught on to something.
Säljarens svar:
Thank you very much for your feedback! :)
Bekräftad köpare
Tuotteen laatu
Tuotteen koko
Belt loops were missing (Automatic translation)
Otherwise a nice bathrobe, but the belt loops are completely missing, so not practical!
Säljarens svar:
Thank you very much for your feedback! :)
Bekräftad köpare
Tuotteen laatu
Tuotteen koko
I recommend (Automatic translation)
Size chart small size. Size L corresponds to size M as a standard size
Säljarens svar:
Thank you very much for your feedback! The dressing gown is indeed somewhat smaller in size than normal. If the size is too small, you can change the product to a larger size for free. :)
Bekräftad köpare
Tuotteen laatu
Tuotteen koko
I recommend (Automatic translation)
Usually I use a size L for this product I had to take XL
Säljarens svar:
Thank you very much for your feedback! :)
Denna uppskattning gäller en annan variant av produkten : Lätt satin morgonrock med spets
Bekräftad köpare
Tuotteen laatu
Tuotteen koko
Absolutely lovely bathrobe (Automatic translation)
Very lovely to wear, benign
Säljarens svar:
Wonderful to hear, thank you so much for your feedback! You look great. :)