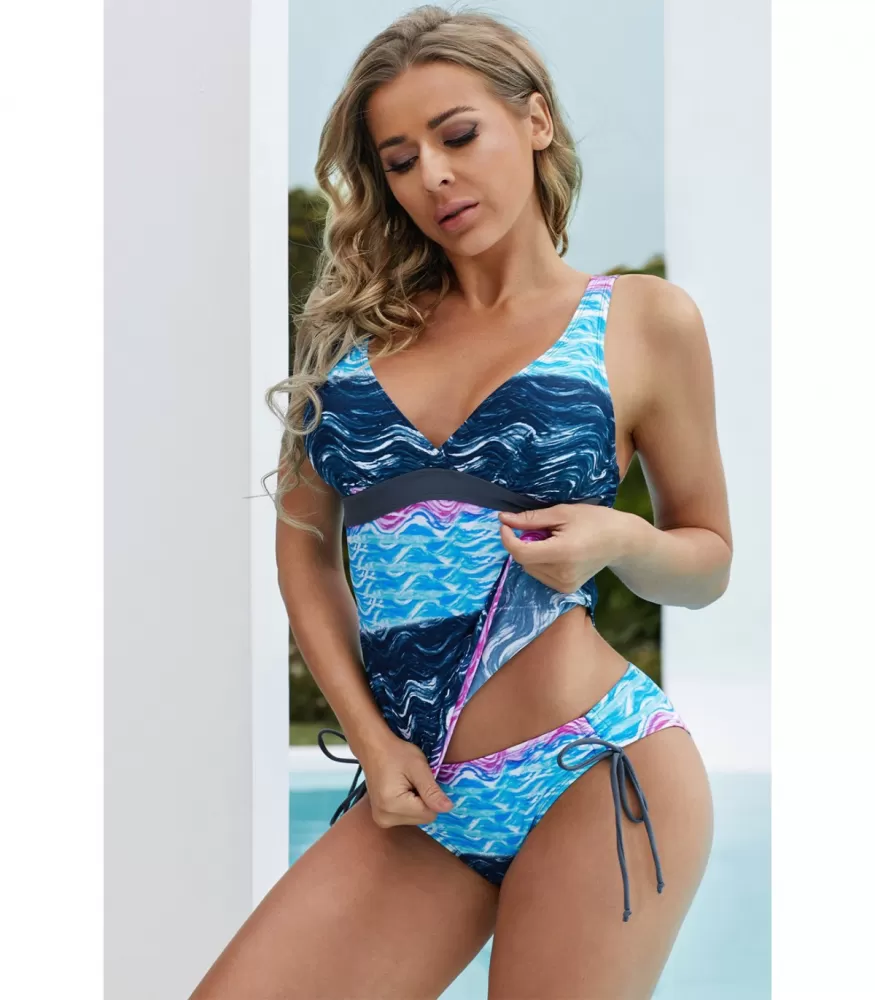 Gratis frakt för beställningar över 500kr
Leveranstid 2-5 arbetsdagar
Redan 10 år i Finland - Nu i Sverige
Betala med faktura utan extra kostnader
Vågmönstrad badtopp och matchande bikinitrosor.

Välj en storlek:

S om du normalt använder storlek 36-38.
M om du normalt använder storlek 40.
L om du normalt använder storlek 42-44.
XL om du normalt använder storlek 46-48.
XXL om du normalt använder storlek 48-50.
XXXL om du normalt använder storlek 50-52.

Midjemått: 70-78cm (S), 74-82cm (M), 82-90cm (L), 88-96cm (XL), 94-102cm (XXL), 102-110cm (XXXL)

Material: nylon + elastan
Kundrecensioner
Bekräftad köpare
Tuotteen laatu
Tuotteen koko
Pretty tank (Automatic translation)
Säljarens svar:
Nice to hear, thanks a lot for your feedback! :)
Bekräftad köpare
Tuotteen laatu
Tuotteen koko
The upper part is large and alluring, the lower part is small (Automatic translation)
My tank is great looking and colorful. Feels good quality. Unfortunately, the cups are too far apart. I wondered when to agree why there is so much bare chest left. Well on the beach, I noticed that when I changed my position, my right nipple was blinking. Violation! The pants are relatively small. So smaller in size than the top AND low. From behind flashed a bum on the same beach. So if I used tankin just standing still it would be great but awkward to use. Yes, I am disappointed and I do not know how to prevent that nipple from flashing. Need to sew the top of a tankin?
Säljarens svar:
Oh, I'm sorry to hear that! It could really help if you put the tankin tighter and thus the chest closer together with a few stitches. :) Thank you very much for your feedback!
Bekräftad köpare
Tuotteen laatu
Tuotteen koko
My tank worth the price (Automatic translation)
The top was nice, the pre-tensioner supported the top of the breasts at all, but there was enough support. The size was right. Nicely covers the problems of the middle body. The bottom wasn't so nice, I didn't like the laces on the sides of the pants and the pants were a bit tight. However, the top will be used, perhaps with a different bottom.
Säljarens svar:
Thank you very much for your feedback! :)
Bekräftad köpare
My blue wavy tank (Automatic translation)
Good buy
Säljarens svar:
Thanks for your feedback Soile. Nice swimming rides. :) Best regards, HerSecret.fi customer service